I'm still at a loss as to why the Clown Department at Apple decided to use a custom control for the PDF functions in Tiger's print sheet (screenshot), particularly when they're already embarrassed for choice in that area of controls.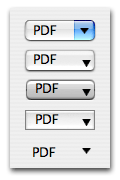 Engineer 1

Hmmm… we need a control that pulls down to reveal a choice of actions that the user can perform. A control that pulls down and looks comfortable next to other Aqua elements like the Push Button.

Engineer 2

Like a PopUpMenu? They're in the Interface Builder.

Engineer 1

Yeah, but those are supposed to be Selection controls, not Action controls. They're not really supposed to be 'doing' words, whatchacallem… verbs.

Engineer 2

Sooo… like a PullDownMenu?

Engineer 1

Yeah, I guess. How do we get one of them?

Engineer 2

Dunno, can't see it in Interface Builder. What's say we just make our own?

Engineer 1

Right on.
Interface Builder really needs some attention, it's been years. While I'm right glad they updated a lot of the controls to include things that were previously only available programmatically, it's still a disorganized mess. And don't get me started on the HIG.
Check out the guidelines on the PullDownMenu… it reads as though the only place you're allowed to use them is, well, in Apple-designed system-wide panels like the color panel or the font panel. This is obviously not the case, but it becomes a point of contention between people who try to use them sensibly and those to-the-letter HIG proponents who get in their way. The HIG is like the Bible: it's a good set of rules to base your work around, but to apply it word for word you'd have to be a fucking maniac.
---